I had a package sitting on the table when I got home from work today.  Not sure if I had a night of Amazon shopping after a night of many beers, I didn't know what to expect.  Inside, I found something that really made my day, something that put a big goofy smile on my face, a gift from my brother.
Since I'm in such a good mood, it seemed as good a time as any to pour a beer and enjoy a relaxing night.  Time to open something I picked up last week, a Gnomegang – a collaboration between Ommegang (a brewery that makes Belgian-style beers in Cooperstown, NY) and Brasserie d'Achouffe (a brewery that makes Belgian-style beers in Belgium).  I generally like Belgian beers, and I've liked the beers I've had from both breweries, so I was looking forward to trying this.  As luck would have it, I found it when I out hunting for another beer (another acquisition – Goose Island's Big John, but that's one I'm holding for a while).  A successful trip.
So.  A Belgian Strong Pale Ale.  9.5% ABV.  A good one to get me ready for bed.  Like the Boulevard Smokestack Series beers, it's in a corked and caged 750 ml bottle.  Unlike the Boulevard beers, the cork came out quite easily (now whenever I open a Smokestack Series bottle now, I just go straight for the pliers).
It poured into my goblet a cloudy light orange, almost yellow.  Thin cream head, dissipated quickly.  There's a little lacing on the glass after a swirl, not much.  With the swirl, I got a whiff of the beer.  Yeasty, wheaty, with a hint of lemon, and more than a hint of bananas.
It's got a pretty medium mouthfeel.  Not a robust body, but not thin.  Really. . . medium.  Man I'm awesome at this.  The Belgian yeast comes through, the banana flavor is prevalent in the taste.  A lot of the same stuff as in the aroma, with a slight twinge of alcohol, maybe some clove.  It's not a standard pale (thanks Cap'n Obvious).  It's a little heavier, more alcohol, much more complex flavor profile.  Breadier.  Honestly, this isn't quite my thing.  Not a bad beer by any means, but I'm not sure it lives up to the hype, or my expectations.  I said as much on Twitter, and my esteemed colleague asked if I noticed a banana Laffy Taffy thing going on.  Well, now that he mentioned it, yes.  I smell it, and taste it.  It's all I can get.  Maybe not quite so much in the flavor, that's more of a banana bread Laffy Taffy, with hops.  It's subtle, but it's there.  As it warms, I get some olive.  It's weird.  I'm not a big fan of olives, but I don't really mind this.
Aroma: 3.9 This is sort of interesting.  I can't get past the banana Laffy Taffy now.
Color: 4 It's nice.  A little cloudy, but a good "beer"-looking beer.
Taste: 3.5 Again, it's not my thing.  Again there's Laffy Taffy.  I blame Joe.
Feel: 3.9 It's average.  Maybe a little above average.
Overall: 3.8.  B-  Like I said, I'm kind of underwhelmed.  I wanted more out of this beer.  It's not awful, at all.  Maybe I'm not a fan of Belgian Strong Pale Ales.  Others seem to like it, but others might not have someone telling them it's Laffy Taffy.
For some tunes?  For a goofy-named beer, with a Laffy Taffy taste, what better than a happy-go-lucky song from They Might Be Giants!!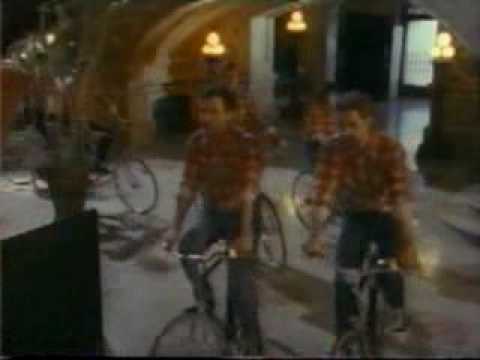 This is one of my favorite songs.  "Blue canary in the outlet by the light switch/Who watches over you/Make a little birdhouse in your soul"  When I opened the box and saw the gift, it turned my day around.  So while this beer might not have been my favorite, it's still a damn good day.  I hope it's been as much for you!